---
Slalom World Championship 2002 in Avila Beach & Morro Bay
Text and photos by Chris Eggers.
The Skateboard Slalom World Championship took place from October 11. to October 13. in 2002.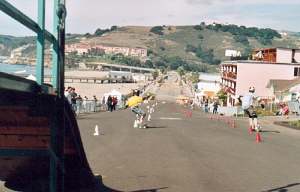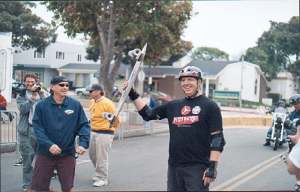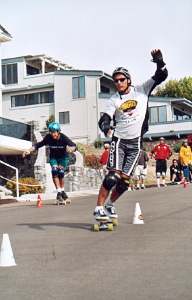 Slalom World Championships! Who has thought this might ever happen again? With more than 100 racers from all over the world? In a fishing village full of amazed spectators? And TV? And Duane Peters, Steve Olson, Dave Hackett, Henry Hester? Probably noone, not even the organizers ...
But lets talk about the pre history first ...
FCR (Fat City Racing) in California has started a series of races in the US and had decided to top it off with a World Championship. It was announced early so the slalom skateboarders who are spread all over the world could decide whether to go on a long long trip to California. The interest level was high thanks to the various websites like NCDSA.com and Slalomskateboarder.com, so there was an impressive field of racers in Morro Bay. Most of them were from the US but there were racers from Trinidad, Canada, England, Australia, Brasil, Switzerland, Sweden and Germany.
There was an amazing array of equipment. 10 months ago there was hardly any new stuff for slalom skateboarding. Everyone tried to custom make boards or get old stuff through ebay. This year there were carbonboards, ceramic bearings, secret urethane compositions, trucks for more than 200 $ and speedsuits!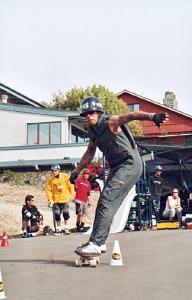 I decided three weeks ahead to make the trip and visit my old skate buddy Attila Aszodi who lives in LA since 18 years. 30 degrees Celsius and sunshine greeted me in LA. It hadn't rained since February ... it never rains in ... lalalalalala.
I had about a week to adjust to the 9 hour time difference before we headed to Morro Bay and Avila Beach on Thursday. The qualification was set for Friday in Avila. Seeing the race site I was a little confused. The road was STEEP! Not the kind of flatland slalom we are used to. But it was right next to the Pacific Ocean so the setting was perfect! The preparations for the race were already in full swing!
Skaters who hadn't qualified top 16 in the FCR Series had to qualify on Friday. The top 16 Friday qualifiers had to face the top 16 pre-qualified racers. Sounds strange? It was strange considering all FCR races took place in the USA and it should be a World Championship. Obviously a disadvantage for those who did not have a chance to gather FCR points. Furthermore the fastest qualifier had to race the fastest pre qualifier which could result in a defeat even if a for example # 5 qualified racer was faster than a #5 pre qualified. Confused? I was.
The qualification race was organized very well. The timing system worked perfectly, the course was challenging and fast suiting a world class event. All Europeans except one from the swiss team made the qualification. There was  a boat trip organized on friday night which was great because you had time to meet and talk to all the racers. Very nice.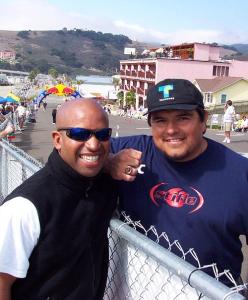 Giant Slalom was on Saturday. The road was steep, so there were a few offset cones at the top to take away some speed. But that resulted in a few crashes, too. The start gate was amazing! The gate was held back by electronic magnets which openend on the last beep from the starting machine, so there were no false starts! Some unpatient riders took home some rob bruises. After the head to head rundown the Open Class was won by Saile Saili, Debi Gordon Sailis son, the owner of Fibreflex. The pro was won by Charlie Ransom who rode through the finish line on one foot.
After the race the whole group trecked to Morro Bay for the Tight Slalom on Sunday. In the evening you could find a (slightly) drunk Steve Evans (Badlands legend) in the Happy jacks bar, you could have a small talk with skaters from all over the world, could listen to Ed Economy's stories, listen to a good live band and you could also laugh at the swiss team having to show their IDs at the entrance. You could also watch people going out of the bar to smoke a cig, a sight never seen in Europe!
Sunday brought cooler temperatures and a fast and long tight slalom course! It all happend on Main Street Morro Bay which was blocked for the race the whole day! Practice already showed that the times were very close, sometimes 1/100th of a second! The head to head was exciting and several hundred spectators showed up. The juniors class was won by Marvin Kory from Switzerland booking a title for Europe! He made even more of a stir by opening a bottle of champagne on the podium at the awards ceremony and, in true race fashion, sprayed the audience. Some Americans made weird faces as he took a big gulp from the bottle (he is 16! Uuuhhhhh!) and Dylan Gordon looked at the stuff like it was poison, but most of the people in attendance found this pretty cool! Thanks Marvin!
The Open Class was won by Paul Price from London, England. He was given a new secret carbon Fibreflex by Deb Gordon before the race. Maybe this was the edge over his competitors?
The Pro division was even closer and more exciting. Just look at the times! Barrett "Chicken" Deck won and immediately had to write autographs for his female friends behind the fence!
FCR has put on a great event! We are all looking forward to next year! Thank you FCR!
Results
Back to the Sk8Mag.
---
Last Update: