---
Indoor Skate Park Real-X in Apeldoorn/Netherlands
Text and photos by Real-X.
Real-X indoor fun-/skatepark is situated a little outside the center of Apeldoorn. From the central train station you can walk (or roll) there in about ten minutes. It is a park with a lot of atmosphere, friendly people and clean bathrooms :-)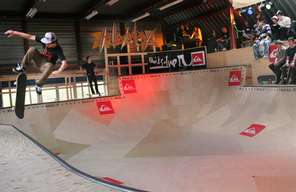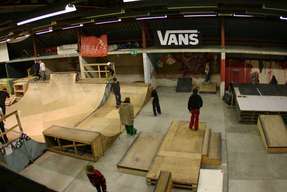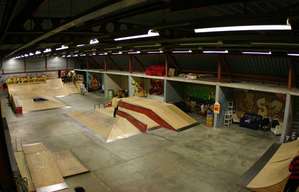 The objects in the park are not too hard to ride, which makes it fun to try new tricks. There is a bowl, a street course, hip, stairs, boxes, rails, big mini, wall rides; more fun than you can handle in a day.
If—in the unlikely case—you get bored, you can always get a drink or some food in the lounge and play a skategame on the ps3. There is an extra gameroom and practise rooms for bands. You can also buy your skateboards, wheels, cloths, skatevids, etc. in the skatestore in the park. Check the website for upcoming events and check out the videos made at the park.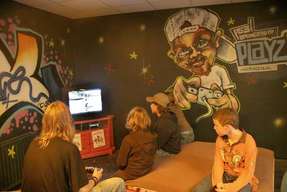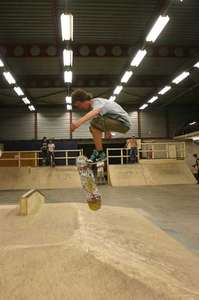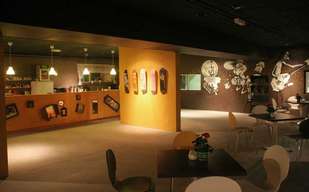 Entree fee is usually 3 euro. Saturdaynight and tuesdaynight 1 euro Skatelesson on tuesdayafternoon and thursdaynight 5 euro.
Open Wednesday, Thursday, Friday and Sunday from 13.00-18.00. Saturday from 13.00-18.00 and from 20.00-22.00.
The web site of the park is located at http://www.real-x.org.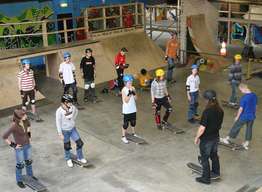 Where?

Address: Prinses Beatrixlaan 301, 7312 DG Apeldoorn, Holland
Tel. (+31) (0)55 522 53 85 (office)
(+31) (0)6 108 34 625 (David)
(+31) (0)6 255 66 381 (Jolien)

Karte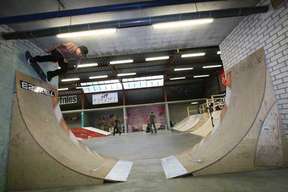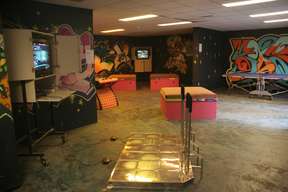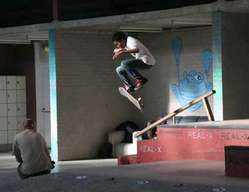 Discussion
Discussion about skate spots in the spots forum.