---
Interview with Sascha "Zosch" Müller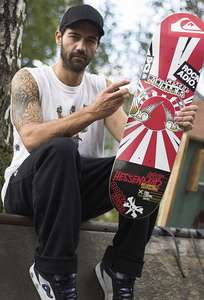 There are not many vert skateboarders on this planet. It takes power, balls, endurance and enthusiasm and fun to become a good vert skateboarder. Sascha has all this in himself and made it to # 12 in the World Cup ranking in 2006. He did his first McTwist in front of 30.000 people in Zürich during the Freestyle CH. He follows in the footsteps of Claus Grabke, Mark Mitzka, Bernt Jahnel and Jürgen Horrwath as a top vert skateboarder from Germany. Mentally Sascha stays on the ground but he is on his way the top. Around the world in airplanes and over the vertramps on his board.
Reason enough for Sk8Mag.de to interview him.
Listen closely …
Quote: Renton Millar: "Sascha is an inspiring person to skate with, always keen and always keen to try something new. Over the time Ive skated with Sascha he has never ceased to amaze me with all sorts of crazy tricks that have only ever been mastered by few. As a person he is just as inspiring … always keen to travel and always with a smile. The last few years Sascha's skating has progressed so much, and in turn he has travelled to the max. I enjoy catching up with Sascha in the craziest places, getting drunk and dribbling my very shit German to him!"
Foto credits: The pics are by Gerd Rieger, except Bob Burnquist's mega ramp (Sascha Müller), portrait (Bob Joosten), slop air (Piper), frontside air (Hansi Herbig), heelflip indy (unknown), frontside air over the hip (Rene Rogowski)
How old are you, when did you start skateboarding, when did you turn pro and who are your sponsors?

Sascha: I am 28, skate since 20 years, vert since 10 years, I got sponsored about 7 or 8 years ago and my sponsors are Adio Footwear, Quiksilver, TSG, Hessenmob Skateboards, Diem Trucks and Bones Bearings & Wheels I could not imagine another job or another life for me! I tried to take a normal career after school and university, but everything worked out differently than planned and now I am here and I am happy about how things have turned out. If I would have succeeded in a normal career I would be an engineer or I would be flying a plane around the world. No, it is good how it is now. What could be better than turning your hobby into your profession? And that also where the less enjoyable part of my job starts. Bills have to be paid, I have to eat and drink and I have to have a roof over my head. Skateboarding does not only mean getting out and having fun and skate with friends, there is a lot of responsibility involved now. But this is exactly the point when it is the most important for me to have fun. Having fun doing what I do.
Responsibility regarding your sponsors or also as a role model for the kids? Do you see your responsibility as a role model? For example skating with pads and helmet? Why do so many people skate ramps and deep pools without pads?

I certainly see myself being a role model and having responsibility being a role model. It is stupid to skate a concrete bowl not even wearing a helmet. But in the very end, everyone must decide for himself what to do. I always thought about the no helmet phenomenon and talked to a lot of people, but I still haven't found the reason why it is so cool to skate without pads. The reason for myself to use pads is that you completely limit yourself not waering them. Skate in a park without pads for one hour and then skate the park WITH pads. You will see the difference! But in the very end you must know that for yourself, that is why we skateboard. Do what feels good, and if it feels good to skate a 12 foot concrete bowl without pads, do it.

You skate vert since 10 years. I saw you skate street, but I know you as a vert skater especially. Where does that preference come from?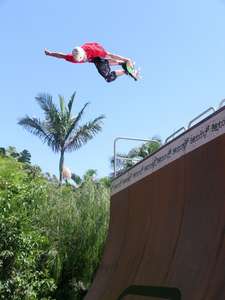 My love for vert or rather transition did not come at once. It happened when I took the trip from Frankfurt to Limburg several times a week. There was this mini ramp from the closed down skatepark in Mönchengladbach. I had more friends who were riding transitions during this time, so I spent more time on the mini ramp than on the street course and I learned a lot more stuff on the miniramp. Then I moved to the bowl that was there too, then the vert ramp was a natural step. After my first drop in I knew this was something I had a lot of fun doing and I could not wait to ride vert again.

How does it feel flying 10 feet above a vert ramp?

It is a feeling I often regret having too much routine in. Usually, when I cannot ride for a few weeks (does not happen often when I am not injured) I realize what I am doing in the first place. I am flying with my board! It cannot really be described but I strongly recommend it!

Why are there more people riding street than vert? Would you like to have that changed?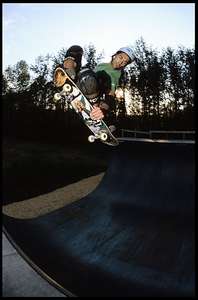 It is hard to wear baggy jeans and headphones while riding vert. You have to wear stinking knee pads and a helmet, you don't look cool. It is ok for me that there are not too many vert riders. The vert scene is small and we know each other internationally, like a big family.

There has been a special moment in your life as a skateboarder: you made your first McTwist! Tell us how that came about. How long did it take you to do it for the first time?

It took 10 years riding vert. More exactly it was about 4-5 months that I worked on the McTwist in every session. I always tried 540s in Frankfurt years ago, but I stopped because the feeling just wasn't right. Then I went on tour with Quiksilver last year, also watching the Christian Hosoi Film premiere. This was the point when I decided to try it again. A few months later I just waited for the right moment. I knew I needed a contest situation or something similar. The final of the Freestyle.ch in Zürich had the right location, the atmosphere, great motivation from the attending riders … just the situation! 37 year old Sergie Ventura had just learned McTwists himself and he was the missing link. He gave the tips and just the right motivation in the right moment. I really cannot describe the moments after my successful attempt. So much time, so many bails and slams I had to take, so much effort it took me to do the trick. A trick that is a milestone like no other in vert skating … hard to describe …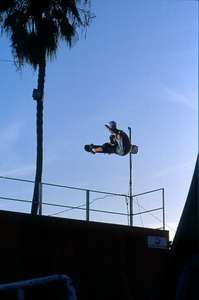 You are travelling a lot. Where do you like it the most, not necessarily skateboard related?

It is true that I have seen many places of this world due to my job. But you also get the feeling that the more you travel, the more you get the feeling that you have seen very little of this world because just then you get a feel for how big it really is. Of all places I have been visiting certainly Australia where I usually spend the winter is my favourite.

How important are contest results for you?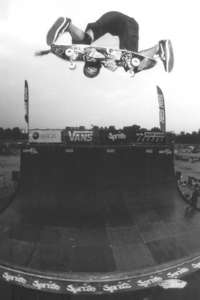 On the one hand they are very important for me because sponsors are just happy about good results, on the other hand they are less important for me personally. Sure it is a great satisfaction to win a contest, or to end up in the top ranks, at the same time it is a stress situation nearly every time, where the fun is missing. But this also depends which expectations you have beforehand.

Describe a perfect session in a perfect park. Who has to be there, how does the park have to be?

For a perfect session it does not matter where I am. Sure, it would be great to be on a vert ramp, where I feel the most comfortable on with my skating, but it is just important to be with the right persons, and the vibe has to bee good. It would not be fair to mention certain people here, because there are a lot of people I like to skate with very much, and I am sure I would omit someone. Everyone contributes to a session with his own personality and skating. Some people are great "training partners", some other are just perfect to have sessions with, and then there are some who just give motivation of a much different kind.

What was the most impressive thing you ever saw on a vert ramp?

I think the most impressive thing was the session in Encinitas, California with Kevin Staab, Tony Hawk, his photographer and me. This was before Tony did his first 900. Several people were close to doing it too (Tas Pappas, Sluggo) and there was kind of a race going on who could do the first one. In true california fashion each in his own session and never with each other. Because of this pressure who would be the first there was this tension in the air. I was lucky to be a part of this session just because I was already good friends with Kevin Staab and he is Tony's best friend. Tony did the trick a few months later, but it was impressive to see how much he tried to do this single trick and see his ambition. He was in this situation to do the trick before Tas or Sluggo and he took many slams and could barely walk at the end of the day. You have to know that this was my first visit to the US and I was totally inexperienced and had my first sessions with the pros I just knew from videos and magazines.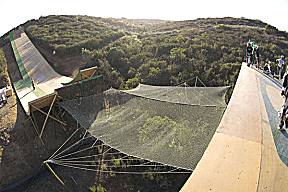 How is it to stand on top of Bob Burnquist's mega ramp? You did not jump, right? (dumb question, I know)

I want to refer to an article I have just written for Boardstein Magazine with pics and a story. It will be out in march.

Who has influenced your skateboarding life?

There were and still are several people who have influenced me or still inspire me. Earlier they were all the popular vert pros, Glifberg, Burnquist, Danny Way, Tony Hawk … nowadays I skate with many of them and get a lot of motivation. At home it is guys like Jürgen and Anders. Each of them has influenced me in his own way. I really cannot say it was a single person.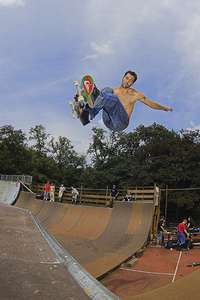 Are you still in contact with the old Frankfurt crew? Keller, Cop, Beck, etc.?

Sure I am. The guys travel to Unna on a regular basis to have a session. Often times there are three cars on their way to Unna. Or vice versa. I am at home quite often and then I usually go skate in Frankfurt Fechenheim. There is a new indoor skatepark opening in Mainz, but there will not even be a miniramp. That is kind of sad.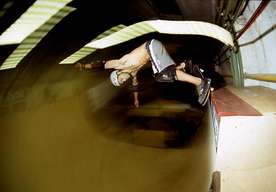 So you have your own ramp? That's great! How did that happen?

After the ramp in Münster was torn down, something had to happen. I originally moved to Münster because my local ramp in Frankfurt was torn down. It took a while and we did not have a ramp at all. All the attempts with COS failed. Then after the Mastership 2005 the opportunity to buy the Worldcup ramp came along. So Adio stepped up and bought it for 2,000 (!) Euro including transportation. Then we stored it at Volker Petersen's in Unna. We just rented the place and now the ramp is put up in there and it looks like the building was made for it …

What do you do besides skateboarding? Do you have family? Kids?

Besides skateboarding I have a band, Pornbeat (www.pornbeat.net). We have just been in the studio and recorded a few new songs. There are takes on the website soon. When I am not on the road I like to be at home and spend time with my girl …

Some concluding remarks?

For sure thank you to my girlfriend who took no easy task with me and my job. Thanks to my family, my friends, you know who you are … and my sponsors Hessenmob, Quiksilver, TSG, Adio, Bones Bearings, Bones Wheels, Diem Trucks.

Sascha, thank you for your time!
Chris Eggers for Sk8Mag.de