---
The Wild Wild East, Road Trip July 2006
Text und Fotos von Flow.
Hi Folks,
now that Germany got kicked out of the FIFA Worldcup, I found enough time to send you some impressions of my last weekend.
Together with Felix and Sascha from Wuerzburg we hit the road towards Eastern Germany. Friday night we stopped by at the crazy Blackriver Crew in Schwarzenbach and Wunsiedel to watch the Worldcup, BBQ and skate their awesome backyard miniramp. Thanks for the great time in your little paradise, guys!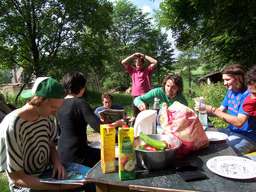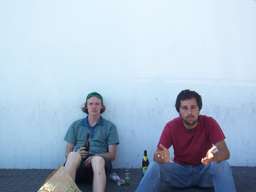 On Saturday we drove on to Plauen and skated the pretty rough pool for a few minutes under the hot sun before we decided to go back into the airconditioned car.
A few hours later we landed in Chemnitz to skate the almost brandnew Pool-Combi built by usually-not-so-killer Concrete Rudolph. But this park is really well built. It's a bit like St. Wendel/Saarland, but way better, because it has a deep end (but no vert, Dan!) and a wallride/extension plus a subbox for the BMXers. And the coping grinds! Great session with tons of BMXers and MTBers and a few skaters.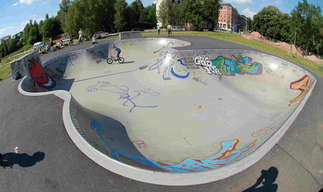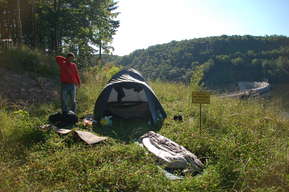 At about 10 pm we left the park to find a nice place to sleep and finally ended up at a nice lake where we slept outside in the grass with millions of stars above us. Killer!
The next morning we headed forward to Oschatz, where they built an even bigger Pool-Combi (also done by Rudolph). The Pool is in between the Landesgartenschau (kind of an Flower Exhibition). We didn't want to go with all the 60+ year old people and pay 11,- Euros, so we packed our stuff and hopped over the fence. And what a surprise, no one at the pool besides that 12 year old boy and hundreds of 60+ year old people watching, applauding and yelling "ouuuch" everytime someone did a trick.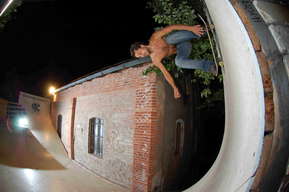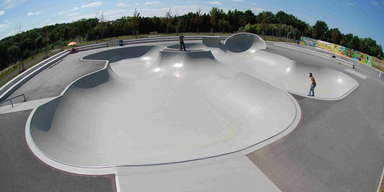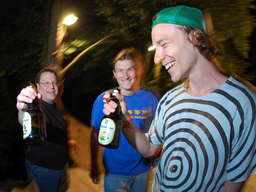 Suddenly two of those old people came up to me and asked me where we are from, and why we drove so far for this park, if it's good blablabla — from the first second I knew, I know that lady, but couldn't remember from where. Then suddenly I realised it was Claudia Roth, member of the German Bundestag and with her the Major of Oschatz. Weird. Anyway, I told them the truth, the park rocks. Concrete Rudolph did a great job this time. And for me, Oschatz is the best concrete park in Germany (at the moment … Hagen go!).
So guys, take a look at the pics, visit the Wild East, skate it, have fun and enjoy life!
Peace Flow